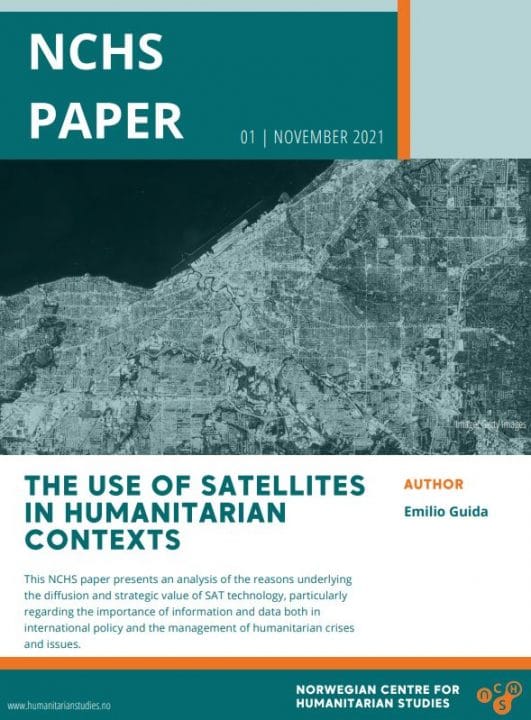 States and private actors are increasingly investing in satellite (SAT) technology. In this new NCHS paper, "The use of satellites in humanitarian contexts", Emilio Guida, presents an analysis of the reasons underlying the diffusion and strategic value of SAT technology, particularly with regard to the importance of information and data both in international policy and the management of humanitarian crises and issues.
Humanitarian emergencies are characterised by elements of uncertainty that can be mitigated through the use of objective analytical tools that have the potential to predict outcomes. The dynamics examined concern the overlapping functions of space technology (in particular, Synthetic Aperture Radar) and data processing. The intensification of investments in SAT technology is due to the reduction of costs, public–private partnerships in the management of resources and assets to tackle the various crises, and, particularly, the dual-use or civil–military framework. There also remains strong international competition in the field of space research, which drives progress in space exploration and cybenetics.
The paper investigates the potential of SAT technology in humanitarian work, taking into account the risks and opportunities that coexist in every great technological innovation and shape the expectations of the various players in its development and use.
Emilio Guida holds an MA in Political Science from the State University of Milan. He is the author of the book "Intelligence. Costante storica, variabile teorica e prospettive post-bipolari" published by Ledizioni in 2016.
You can access the paper here or download a copy of the paper here: NCHS paper 01, 2021 – The use of satellites in humanitarian contexts.
The author of this paper acknowledges the support of the project "Humanitarian Diplomacy: Assessing Policies, Practices and Impact of New Forms of Humanitarian Action and Foreign Policy" funded by the Research Council of Norway and led by Antonio De Lauri at the Chr. Michelsen Institute.