Led by NCHS Co-Director, Maria Gabrielsen Jumbert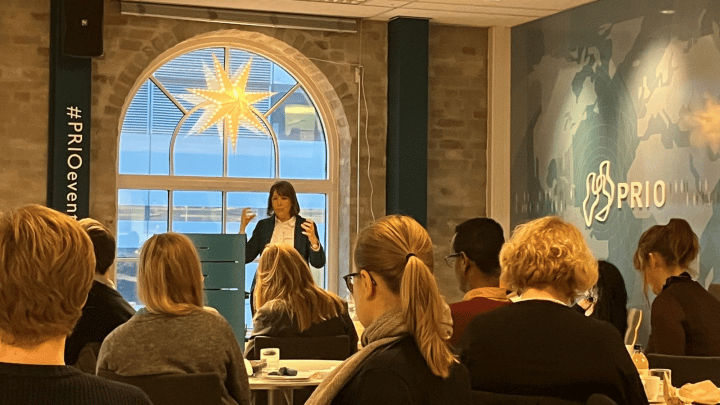 The "Humanitarianism, Borders, and the Governance of Mobility: The EU and the 'Refugee Crisis'" (HumBORDER) project led by NCHS Co-Director Maria Gabrielsen Jumbert has wrapped up with a closing seminar on 1-2 December 2022 at the Peace Research Institute Oslo (PRIO).
The seminar discussed the humanitarian borders of Europe from 2015 to 2022, including illustrations from Greece, Poland, France, the United Kingdom and the Mediterranean. Trends in the digitalisation of the EU's borders were also explored (read more in this new PRIO Policy Brief by Lise Endregard Hemat).
Over the last five years, the project has also explored the various hostile environments at EU borders, as well as how Australia's border practices have been looked to in efforts to externalise migration control (see this article by Ayşe Bala Akal).
The project's closing seminar also included a book talk, presenting the project's edited volume, "Citizen Humanitarianism at European Borders" edited by Maria Gabrielsen Jumbert and Elisa Pascucci, in conversation with Polly Pallister-Wilkins' recent book on "Humanitarian Borders: Unequal Mobility and Saving Lives."
Citizen engagement and volunteers' roles in providing aid to refugees and other migrants, and how these initiatives have evolved over time has been a key topic of the project (more on this in this article, and blogpost).
The final session of the seminar shed light on new dilemmas raised when refugees are also fleeing with their companion animals, as discussed in this new article on "pet exceptionalism" by Kristin Bergtora Sandvik.