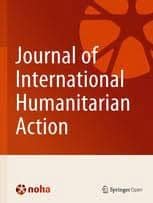 The Journal of International Humanitarian Action has opened a call for submissions to the special collection: Agenda for Humanity Revisited.
As the 10th anniversary of the Agenda for Humanity approaches, challenges to transnational solidarity and to the humanitarian values have never seemed more pressing. The aim of this special collection is to take stock of the progress on the Agenda for Humanity to date.
The guest editors welcome contributions from a variety of disciplinary fields, addressing the following questions:
How do changes in international and domestic politics alter humanitarian commitments?
How is the Agenda for Humanity's narrative used to further political agendas?
What are the implications of the Agenda's core responsibilities on the power dynamics shaping the humanitarian field ?
What is the state of affairs on the Agenda for Humanity's core commitments?
The guest editors of this collection are Clara Egger (Assistant Professor of Global Governance, Erasmus University Rotterdam), Kristoffer Lidén (Senior Researcher, Peace Research Institute Oslo (PRIO) and member of the Norwegian Centre for Humanitarian Studies) and Kristina Roepstorff (Senior Researcher, PRIO).
The submission deadline is ongoing. Find out more about the submission process for this special collection here.
This collection follows a workshop "Six years after the Agenda for Humanity" organised by Clara Egger in November 2022 and supported by the NCHS Dynamic Seed Funding Initiative.